Press release :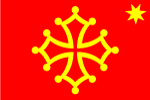 The Occitan Nation Party held its biannual National Council in Montauban (Tarn-et-Garonne) on November 6-7, 2010. Activists from many Occitan regions and Catalan honorary members who had come from Barcelona on that occasion were present.
 
The Occitan Nation Party  has been in existence for the past 50 years. Why use the word nation to define Occitania ?
 
The reason is that its founder, François Fontan, believed that the existence of a specific language determines the existence of a nation. There is an Occitan language with diverse dialects, therefore there is an Occitan nation. It follows that France  is a multinational State made up of the French, Breton, Basque, Catalan, Occitan, Corsican, Dutch (Flanders) and German (German-speaking Alsace and Lorraine) nations.
 
But even though the Occitan language has been recognized since the Deixonne Act was passed in 1951 and  the French constitution now mentions regional languages as part of French heritage, Occitania, encompassing the Southern third of the French State, Valle de Aran in Spain and the Occitan alpine valleys in the Italian Piedmont, has no official recognition whatsoever within the French Republic.
 
On the other hand, Valle de Aran enjoys home rule within the Generalitat of Catalonia, which is part of the Spanish State, and Occitan is an official language there along with Spanish and Catalan.
 
The Occitan Nation Party's objective is to set Occitania free in stages.
The first stage will involve much stronger powers devolved to  Occitan regions in France. They should have tax-raising powers like their neighbors in Spain and have the right to join forces to work together and give up harmful rivalries that play into the hands of French centralism (e.g. Bordeaux and Toulouse). Since territorial reform is being planned in France, the Occitan Nation Party pronounces itself in favor of abolishing « départements », replacing them by historical « pays » and creating new communities for Catalan people of Pyrénées orientales and Basque people of Pyrénées atlantiques.
 
The second stage will involve home rule for French Occitania within the framework of a French federal Republic.
 
The third long-term stage, which may seem utopian but which is perfectly achievable, will be the reunification of Occitania, a nation divided between Spain, France and Italy and the creation of a federal Occitan Republic, therefore of an Occitan State with E.U and U.N membership.
 
We are part of this major liberation movement alongside the Basque people, the Catalan people, The Scots and the Flemish of Belgium.
 
These objectives, according to the Occitan Nation Party, can only be reached by democratic and peaceful means, which entails that its activists should run for election as often as possible, on their own or preferably in alliance with other Occitan forces that are independent from French political parties to seize power in Occitan regions.
 
For the time being, the Occitan Nation Party recommends that Occitan regions should launch ambitious linguistic policies in favor of Occitan and support and promote the economy of our regions.
 
It supports bilingual teaching as ensured by the French ministry of education and the teaching of Occitan by immersion in so-called « calandretas » schools that should become state schools. Since the current government does not seem to be determined to honor the pledge it made two years ago to have Parliament pass a law on regional languages, the Occitan Nation Party supports the efforts of members of Parliament of all political persuasions who are trying to submit to the National Assembly a bill on regional languages.
 
The Occitan Nation Party welcomes the initiative of the Barcelona-based Catalan Parliament, which made Occitan in its aranais variety an official language in the whole of Catalonia but it also denounces the obstructive moves made by Madrid's centralist forces, in particular Spain's constitutional court, which question fundamental aspects of the new home rule scheme voted by Barcelona's parliament and which indirectly threaten the prerogatives granted to Valle de Aran.
 
The Occitan Nation Party is very pleased about the huge demonstration last July in Barcelona in support of self-determination for Catalonia as well as about the success of referendums organized in Catalan towns and villages. They showed that Catalan people massively support independence from Spain.
 
What the Occitan Nation Party wishes for Occitania and Catalonia also holds true for all the stateless nation of the world.
 
Occitan Nation Party, November 8, 2010  

Philippe Bonnet, chairman
F - 31440 Marignac (Occitania)
+33 6 81 37 81 14